Introduction of Plastic Waste Wood Pallet Shredder Machine For Sale:
The Plastic Waste Wood Pallet Shredder Machine For Sale has a wide range of crushing, can crush rubber, plastic, wood, metal and other waste materials. It has increased the reuse value of more waste materials.
In recent years, with the wide use of plastic bags, snakeskin bags, ton bags, fishing nets, tires, film plastic products, how to effectively recycle the waste after use has become a problem to be solved by many manufacturers. Some Jiuyao rely on expensive or high-power low-efficiency equipment to recycle, the investment cost is too high. Some plastics directly burn up, which affects the environment and is not conducive to the sustainable development of the economy. How to recycle waste products economically and effectively has become a key research topic of nine production. The emergence of Plastic Waste Wood Pallet Shredder Machine For Sale has effectively alleviated this problem.
The structure of Plastic Waste Wood Pallet Shredder Machine For Sale:
Material: high alloy steel has strong steel and toughness after heat treatment.
Blade diameter: 350mm can effectively tear all kinds of materials.
Number of edges: 3 blades have different edges for different materials.
Number of knives: 18 * 2 = 36, each two pieces of the composition of the shearing method, can be very effective shearing (such as: wood, rubber, various plastic films and plastic products, wire rope, steel (less than 10 mm), thinner metal materials).
Blade thickness: 20mm (customized according to customer needs).
Each blade can be replaced easily after natural wear or damage after several years of use.
The material range of the Plastic Waste Wood Pallet Shredder Machine For Sale is:
1. Scrap metal: automobile shell, bicycle, color steel tile, and steel plate thickness below 5CM and so on.
2. Waste household appliances furniture: TV sets, washing machines, refrigerators, sofas, wardrobes, cabinets, beds and so on.
3. Used tyres: car tires, truck tires and so on.
4. Waste wood-formwork: building formwork, roots, branches, tree bars, wooden pallets, plastic pallets, Forklift pallets, etc.
5. Waste plastic pipes: woven bags, rubber and plastic waste, PVC pipes, large pipes, PE pipes and so on.
6. Waste containers: cans, plastic beverage cans, plastic buckets, paint buckets, oil tanks, packing boxes, buckets and so on.
The Plastic Waste Wood Pallet Shredder Machine For Sale is driven by planetary gear reducer and the blade is made of high strength alloy steel. It has strong wear resistance and high strength. It operates at differential speed between four axles and has the functions of tearing, extrusion and biting. For all kinds of garbage surface design, suitable for crushing all kinds of garbage, such as solid waste, medical waste, domestic waste, hazardous waste, kitchen waste, electronic waste, gardening waste, waste metal and other materials. Plastic Waste Wood Pallet Shredder Machine For Sale has the advantages of uniform discharging and controllable size.
The working principle of Plastic Waste Wood Pallet Shredder Machine For Sale:
The Plastic Waste Wood Pallet Shredder Machine For Sale is driven by a motor through a transmission system to rotate the cutter head in the crushing chamber, and then the materials needed for the conveyor are fed into the feeding hopper of the equipment by the conveyor. When the crushed materials enter the crushing chamber through the feeding hopper, the cutter head crushes and tears the materials to meet the requirements and discharges the shredder. Yuantong mechanical metal barrel shredder can break all kinds of scrap metals into their own size, such as tricycles, bicycles, cars, car shells, scrap iron sheets, scrap steel plates, scrap steel bars, cans, metal bottles, paint barrels, scrap sheets, scrap iron scraps, cans, and so on, thus reducing the size of transportation. This, and improve the speed of scrap iron smelting.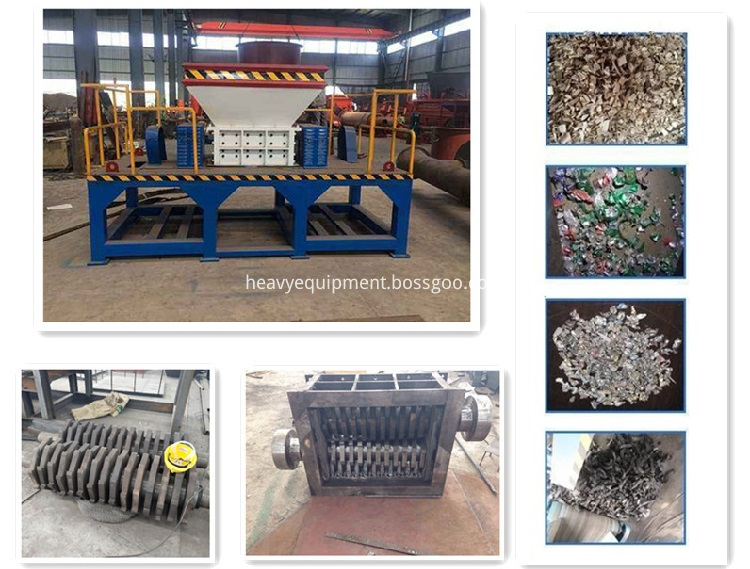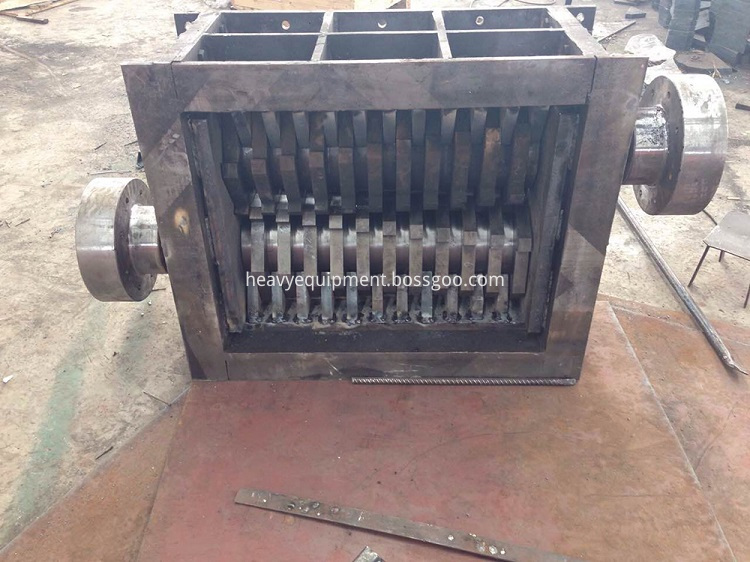 Advantages of Plastic Waste Wood Pallet Shredder Machine For Sale:
1. The shredder machine is suitable to process very big size of plastic material, such as plastic pipe, plastic board, wood, woven bags, tire, aluminum cans, little diameter of copper wire and pressing plastic film which the single Shaft plastic shredder can not process, new designed especially for crushing the film in rolls, hollow barrels and so on. 1. Dual axis low speed, large torque, large capacity, effective crushing, energy saving, low noise, widely used.
2. The modular design of the whole machine is convenient for maintenance and replacement.
3. The blades and gaskets are made of special alloy steel with high stiffness and wear resistance from abroad. After surface treatment, the blades and gaskets have good cutting performance. In addition, titanium plating is used to make the blades more rigid, wear resistant and corrosion resistant, and the service life is prolonged by 2 times.
4. The combination of shaft and blade adopts spline structure, which has large torque transmission and is not easy to deform, and is easy to remove and maintain.
5. Motor and gear reducer adopt famous brands at home and abroad to ensure that the power system is stable.
6. The bearing block is patented for easy disassembly and quick disassembly.
7. Special sealing structure can effectively prevent damage to the gearbox, the treatment of liquid materials can protect bearings and gears.
8. Multiple protection systems of metal shredder.
Working Principle of Plastic Waste Wood Pallet Shredder Machine For Sale
The basic principle shredder machine are to use the basic principle of the cutting machine, and the unloading port adopts the filter conveyor, high-speed high torque motor drive the rotor cutting machine to rotate the main engine. Material that strikes the cavity is broken, and the space between the lining and the tool is broken into fragments that conform to the specification by forming the material. According to the working conditions, the system can be divided into dry-wet system and sub-humid system.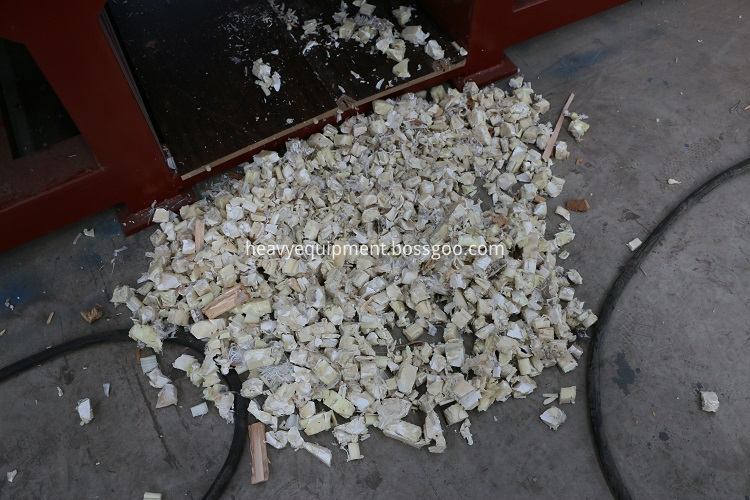 Product Application for Plastic Waste Wood Pallet Shredder Machine For Sale
Materials can be processed by Mingyuan top quality two shaft shredder:
*All types of tires--- Car tires, van tires, truck tires, mining tires, OTR tires etc;
*Metal--- Car body, Baled aluminium,Scrap steel, Paint bucket;
*Cables--- Copper cable, Aluminium cable,etc;
*E-waste---Home applicance( Refrigerator,Printer, Washer,Air Conditioner),PCB board;
*Wood/Timber--- Pallets, Waste wood borad,stalk or biological straws;
*Solid Waste--- Mixed Household & Commercial Waste - RDF/SRF Production
*Paper & Cardboard --- Confidential Documents, Production Waste, Packaging Materials etc.

*Plastics --- Various rigid and flexible plastics including Mouldings, Purgings/Lump, Profiles, Films etc.
Specification of Plastic Waste Wood Pallet Shredder Machine For Sale
| | | | | |
| --- | --- | --- | --- | --- |
| Motor | 1900 | 1500 | 1000 | 500 |
| Spindle power(kw) | 6-55 8-55 | 6-45 8-45 | 6-37kw 8-37kw | 4-7.5kw 4-7.5kw |
| Spindle speed(r/min) | 40, 30 | 40,30 | 40,30 | 35,35 |
| Output (t) | 8-10 | 6-8 | 3-6 | 1-3 |
| Weight(kg) | 9600 | 7500 | 5200 | 3500 |
| Conveyor Power (kg) | 4-3kw | 4-3kw | -- | -- |
| Knife plate number | 50 | 40 | 40 | 16 |
| Broken size(cm) | 3-10 | 3-10 | 3-10 | 3-10 |
| Slio Size(m) | 1.6*2.5 | 1.2*1.8 | 0.8*1 | 0.7*0.75 |
| L*W*H (m) | 6.5*1.6*2.4 | 5.2*1.5*2.4 | 2.9*1.5*1.7 | 2.1*0.85*1.6 |